Ford Explorer Lawsuit Evaluation
Nationwide Assistance Available
Call the Willis Firm in Houston, Texas for Ford Explorer lawsuit assistance. In a products liability / rollover lawsuit against Ford Motor Company and others the injured party may request in damages. In a Ford Explorer rollover accident lawsuit a victim may file a lawsuit for damages(money) all negligent entities for one's injuries and any other losses which can include:
Pain and Suffering;
Compensation for mental anguish;
Loss of past and future income;
Medical expenses for the past and for the future;
Loss of the enjoyment of life;
Disfigurement;
Impairment;
Funeral Expenses (if applicable)
Punitive / Exemplary Damages
In a wrongful death claim due to a rollover accident the normal beneficiaries include:
Surviving spouse of the deceased;
natural born children (minor or adult children) of the deceased;
adopted children of the deceased;
parents of the deceased;
grandparents in some states under specific circumstances and
siblings (brothers & sisters) of the deceased in some states.
Wrongful death damages in a rollover accident are dependant upon the relationship of the plaintiff to the deceased. These wrongful death lawsuit damages to the wrongful death beneficiaries may include:
loss of companionship;
mental anguish;
past medical expenses;
loss income;
potential financial contributions and inheritance;
funeral & burial expenses;
loss of consortium;
loss of support;
Loss of benefits caused by the victim's death (pension, medical coverage, etc.);
Loss of care, protection to the survivors;
General damages and
Punitive or Exemplary damages
Ford Explorer Rollover Lawyer
In 1997, Mr. Willis was involved in one of the nation's first Firestone ATX Radial Tread / Belt Separation and Ford Explorer rollover cases which occurred in Texas. (Picture to left is of Texas State Trooper carrying our client's Firestone tire tread back to the scene of the Ford Explorer Rollover Accident - Jackson vs. Ford & Firestone) A products liability lawsuit was filed in 1998 against Ford and Firestone due to the Ford Explorer going out of control and rolling after the back left Firestone ATX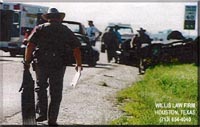 radial tire's tread came off. After a long battle with Ford and Firestone a very significant confidential settlement was reached by all parties. On July 17, 2001, Mr. Willis was recognized as one of a very select group of products liability attorneys in the nation and was awarded the prestigious Steven J. Sharp Public Service Award for his contributions in investigating and gathering evidence pertaining to tire belt separation and vehicle rollovers in Firestone Tire and Ford Explorer Cases.The efforts by these selected attorneys and others helped lead to the largest tire recall in U.S. history. This award was presented to Mr. Willis by the President of the Association of Trial Lawyers of America. Recently in 2005, Mr. Willis filed the nation's first defective cruise control switch wrongful death lawsuit against Ford Motor Company as a result of a death of an Iowa woman, Dollie Mohlis, who died in her house after her Ford F150 erupted into flames trapping her in the burning house .
Free Ford Explorer Lawsuit Case Evaluation

If you or a member of your family has been involved in a Ford Explorer or Ford Explorer Sport Trac rollover or any other serious rollover accident and you have questions about whether the vehicle design may caused or contributed to the accident or injuries, then call and talk to us now. Call 1-800-883-9858 for a Free & Confidential Consultation or Click Here