FORD EXPLORER SPORT TRAC ROLLOVER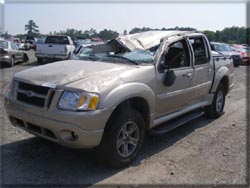 Ford Explorer Sport Trac rollovers are happening on many models of this mid-size Sport Utility Truck. Ford Explorer Sport Trac roll over accidents are still occurring even with this new design of a pickup truck bed attached to a SUV. The Explorer Sport Trac is based on the Ford Explorer SUV and has been built by the Ford Motor Company since 2001. Read more about the Ford Explorer Sport Trac Rollover Problems revealed in NHTSA rollover testing.
Ford Explorer Sport Trac Rollover – NHTSA Rollover Test & Rate
Tests of some of the 2-wheel drive -2005 Ford Explorer Sport Trac in new "fishhook" driving tests by NHTSA that the Ford Explorer Sport indicates a rollover, handling and stability problem.

During the rollover test or Fishhook or "J' Hook test, the Ford Explorer Sport Trac rollover tipped up onto 2 wheels. When this happens the likelihood of a rollover is very high. In fact the tip up of the Sport Trac indicates it is likely to roll over in 30 to 40 percent of the time in single-vehicle accidents.
Ford Explorer Sport Trac Rollovers – Likely To Occur
The fish hook test that the Ford Explorer Sport Trac went through is a series of sharp turns designed to test the Sport Trac for potential rollover problems. This tip up/ rollover test of the Sport Trac is a strong indicator that a rollover is extremely likely especially in tire tread separations, tire failures, tire blowouts and accident avoidance maneuvers emergency maneuvers, sudden and hard turns and other quick or panic maneuvers a Sport Trac driver might make to avoid an dog, deer, road hazard, pothole, object or another vehicle. Other potential problems may involve on some models of the Ford Explorer Sport Trac a steering shudder during low speed maneuvers per NHTSA ID #10018061, OCTOBER 07 2005 and improper alignment of the right hand upper control arm for the front torsion bar suspension per NHTSA ID #10014096.
Ford Explorer Sport Trac Rollover Accident Lawsuit Evaluation

If you have a question regarding serious personal injuries or the wrongful death of a friend or family member involved in a Ford Explorer Rollover of Ford Explorer Sport Trac Rollover, tire tread separation, tire blowout, roof crush, roof pillar collapse, vehicle rollover or other serious accident, then call and talk to us now. Call for a Free & Confidential Consultation. Nationwide Assistance is Available.
Toll Free at 1-800-883-9858 or 1-800-468-4878
>>Free Ford Explorer Sport Trac Rollover Accident Case Evaluation